Back
Changing the Symbolism with the Motherland Pride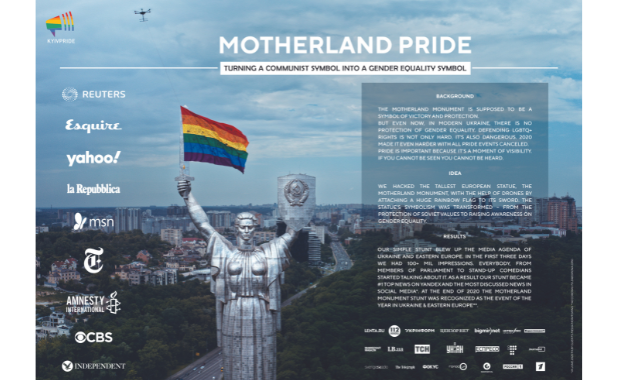 In Ukraine, Pride events do not have a long history. COVID-19 in 2020 made it even more difficult, as all Pride events were canceled and switched to online, which reduced the audience dramatically. Online involves only LGBTQ+ activists. Offline Pride events are a moment of visibility for a wide audience. KyivPride and Saatchi & Saatchi had a difficult task – during a pandemic they needed a campaign that spread online Pride events across the country.
We hacked the tallest European statue, the iconic Motherland Monument, with the help of drones and the Dronarium Ukraine team we attached a huge rainbow flag to its sword in real-time. The statue's symbolism was transformed – from the protection of Soviet values to human rights protection and raising awareness of gender equality. It was an upside-down shift in symbolism that immediately resonated with society.
The task was to make our Pride event visible in Kyiv during COVID-19 pandemic restrictions. But our stunt made Kyiv's Pride visible all over the world with more than 100 million impressions in the first three days. The Motherland Monument stunt was recognized as the EVENT OF THE YEAR in Ukraine & Eastern Europe.
The Motherland Pride won several awards in the biggest world festivals on creativity and efficiency, such as Effie Awards Ukraine 2021, Cannes Lions 2021 and 2022, Andy Awards 2021, Golden Drum 2021, AD Stars 2021, D&D 2022, and The One Show 2022.