Back
Saatchi & Saatchi Ukraine Named the Most Creative Agency in the Country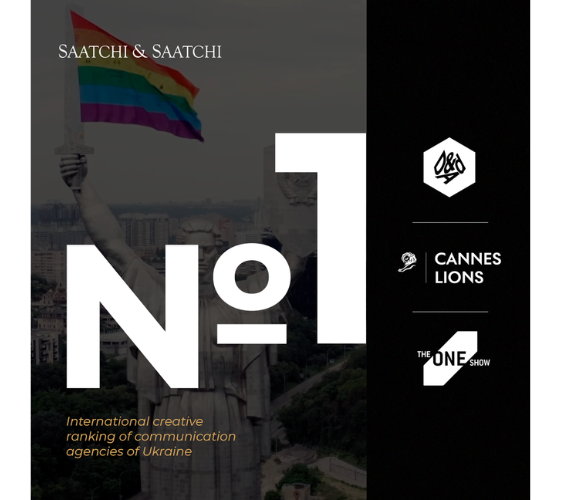 Saatchi & Saatchi Ukraine has just been named the Most Creative Agency in Ukraine by the All-Ukrainian Advertising Coalition in an annual Creative ranking of communication agencies in the country.
The agency won the title on the back of its strong performance across leading international creative competitions including Cannes Lions 2021, D&AD 2022 and The One Show 2022.
"The award is the result of a strong effort from the team. And we would definitely celebrate it together when Ukraine emerges victorious in this cruel war. In the meantime, we'd continue to work to support our economy and fight on the information front," said Kostya Schneider, Creative Director of Saatchi & Saatchi Ukraine and Publicis Groupe Ukraine.
"The start of this year was great, but in the space of two months, all of our lives were turned upside down. But I believe that there will be a turning point not only for the country but for the industry as a whole. Each of us has become stronger and we will definitely win more and more. We believe in it and will keep working," added Serhiy Biloshitsky, Creative Director of Saatchi & Saatchi Ukraine.
Among all the Saatchi & Saatchi Ukraine projects being recognized,  Motherland Pride (created in cooperation with Dronarium Ukraine for KyivPride) was awarded mostly by jury members worldwide. It became a symbol of equality and an irresistible desire for freedom -values that Ukrainians are now fighting for.
Presented by the All-Ukrainian Advertising Coalition, this annual Creative Ranking of Ukrainian communication agencies is based on their performance leading international creative competitions are tallied on a point system allocated to the different creative competitions and the type of awards won as seen here: Cannes Lions International Festival of Creativity (10), D&AD (6), The One Show (6), LIA (4), Clio Awards (2), Epica (2) ADC*E Awards (1). Shortlist – (2), Bronze – (4), Silver – (6), Gold– (8), Best of Category – (10), Grand Prix – (15). 
Saatchi & Saatchi Ukraine is a part of the most creative communication group in Ukraine Publicis Groupe Ukraine.